Danae VU, MD, FACOG

Obstetrics & Gynecology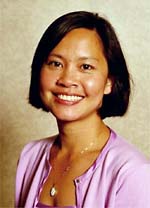 Danae VU, MD, FACOG
After graduating from the University of California, Berkeley, I headed east to attend New York Medical College where I received my medical degree in 1997. I then completed my residency at the Albert Einstein College of Medicine in the Bronx, New York. I practiced for two years at the University Hospital in Syracuse, New York where I was fortunate to find a faculty and staff that nurtured the spirit of providing care and not just practicing medicine. However, I yearned to return to the west coast and so my family and I moved to Seattle in 2003. I am Board Certified and a Fellow of the American College of Obstetricians and Gynecologists.
My interests include:

Contraception and Family Planning
High-Risk Obstetrics
Lactation
Menstrual Disorders
Menopause
Cervical Dysplasia
Laparoscopic Surgery
Hysteroscopy
I very much enjoy obstetrics and gynecology and believe that my practice style reflects this. While good efficient healthcare is the goal, it starts with a warm and positive relationship with you.