Christina Jahncke, MD, FACOG
Board Certified
Obstetrics & Gynecology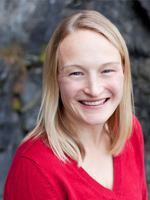 Christina Jahncke MD, FACOG
After graduating from Stanford University, I went on to the University of Southern California for medical school and residency. During my residency, I became very comfortable with conversational Spanish while taking care of a largely Latina population. I joined the Navy and have worked at the Naval Hospital in Yokosuka, Japan and more recently at the NAS Oak HarborHospital on Whidbey Island.
I loved my time as a Naval officer but my family and I decided it was time to settle down. I grew up in Seattle and after spending 15 years living elsewhere, I'm happy to be back home in the Pacific Northwest.
I am a board certified Obstetrician/Gynecologist. My interests include the full scope of women's health care such as:
Contraception and Family Planning
High-risk obstetrics
Hysteroscopy
Endometrial ablation
Gynecological surgery-including Laparoscopic and vaginal surgery
Treatment of incontinence
I enjoy spending time with my husband, son and infant daughter. We love spending time outdoors, snow skiing and hiking. I'm thrilled to be joining Meridian Women's Health in December 2013.