Carol Salerno, MD, FACOG

Obstetrics & Gynecology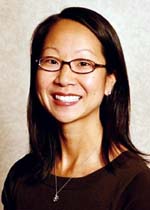 Carol Salerno, MD, FACOG
After graduating from Stanford University, I attended the University of California, San Diego School of Medicine and earned my degree in 1999. I completed my residency training in the Department of Obstetrics and Gynecology at Hermann Hospital, affiliated with the University of Texas, Houston Medical School. I am board certified in Obstetrics and Gynecology. I moved to Seattle with my family in July of 2003.
I enjoy my practice in obstetrics and gynecology because it is challenging as well as extremely rewarding to care for women in all stages of life. My special interests include:
High-risk obstetrics
Ultrasound
Patient Education
Gynecological surgery, including laparoscopic and vaginal surgery
Cervical Dysplasia
Menstrual Disorders
Contraception and Family Planning
Menopausal Issues
I am especially interested in helping women prepare for the transition to motherhood.